Written by Kelly Kramer
The Humboldt Utilities Wastewater Treatment Plant has been serving Humboldt, TN, and the surrounding area of approximately 4,400 customers since 1939. For several years, the plant received the KY-TN Operational Excellence Award for continued outstanding  management and has a reputation for being one of the most reliable utilities in the area.
Humboldt currently uses a belt filter press and the dewatered solids are then hauled to a landfill for disposal. However, the WWTP is now adding a new biosolids dewatering building, in which Schwing Bioset is providing two new FSP803 screw presses, complete with a grinder, sludge feed pumps, reaction tanks, flow meters, polymer blending units, discharge chutes, valves, and controls.
Schwing Bioset performed a demo that was able to show that the Schwing Bioset dewatering screw press system is ideally suited to dewater the sludge at the Humboldt Utilities WWTP, achieving solids as high as 28.49% while maintaining capture rates in excess of 95%. Compared to normal operation of the belt press, with output solids ranging from 16-18% solids, the screw press provided much improved performance and a long term, more robust solution than the current belt press.
During the demo, the plant staff could see for themselves some of the key advantages of screw press technology compared to their existing belt press. Below is a list of some of these advantages:
Low maintenance costs.

Very quiet operation.

Extremely low power consumption, which means that new power feed equipment would not be needed for the new installation.

Easy startup, shutdown, and cleanup.

Excellent cake dryness and capture rate when used with the correct polymer.

Enclosed operation.

Very low wash water usage.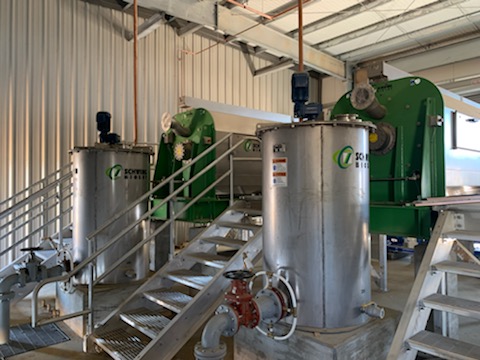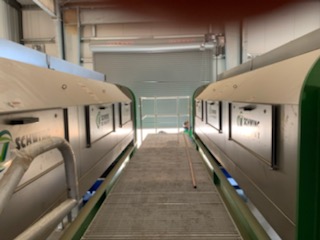 The Screw Press dewatering unit compresses and dewaters flocculated slurry using a screw rotating at very slow speed in a perforated screen and the filtrate will discharge from a drip tray below the perforated screen into a discharge pipe. Access doors allow a direct view of the dewatering process and the simple operating principle is achieved with only a few functional component groups. Slow movement and the high-quality design of the structural components will guarantee a high service life. And last, but not least, one of the greatest benefits is that the back washing cycle cleans the screens automatically (cycle lasts approx. 2-3 minutes) and dewatering operations are not interrupted during washing cycle.
The new FSP 803 screw presses are expected to process 300-800 dry pounds per hour with a minimum output of 20% solids and a 95% capture rate. The project's start up date will be during the summer of 2021.
Click here to read more about our Screw Presses, then contact us to learn more about this project or find out how we can help your plant too.
{{cta('f7c6a470-4d17-4b43-bf9f-ee8763af0097')}}
{{cta('62f45d87-56cc-4443-9f43-7a853094c599′)}}