Schwing Bioset Application Report 22, Seneca Water
Written by Larry Trojak, Trojak Communications
Version also published in WE&T Magazine, October 2016 Issue
When the Seneca (S.C.) Water Treatment Plant embarked on a recent expansion project, its overall goals were fairly straightforward: eliminate the use of chlorine in purification, relocate its new chemical treatment process, and upgrade the alum sludge dewatering operation. On that last point, plant officials opted to replace an outdated and difficult to maintain batch filter press with a different technology altogether — a fully-automated screw press — to handle its dewatering needs. In doing so, they not only eliminated an ongoing maintenance headache, they also dramatically improved the efficiency of their dewatering operations as well as their overall residuals management operation.
Water for Sale
Built on a hill overlooking Lake Keowee, the Seneca Water Treatment Plant is a 20 million gallon per day (MGD) facility located in Seneca, South Carolina, that serves more than 39,000 residents in and around Oconee County in the far northwestern part of the state. According to Steve Fletcher, the lake is owned by Duke Power Company, which allows the City to draw raw water for municipal purposes.
"As part of the agreement with Duke Power, we take in and treat the lake water, then, once purified, wholesale it to area communities," he said. "That 20 MGD number is our peak permitted flow — our actual volumes vary, but are generally in the seven to 10 MGD range."
Storage facilities for the treated and purified water currently consist of three ground storage clear wells and eight elevated tanks with a total capacity of 6.5 million gallons.
Risk Management
Until this latest expansion, water disinfection was done using chlorination which, while effective, was seen as a serious potential hazard, said Fletcher.
"When this plant was first built in 1968, there was literally one house in the immediate area," he said. "However, the lake's popularity has attracted large-scale development — both residential and commercial — and today the area immediately around the water plant is dense with some very nice homes. Should one of our three one-ton cylinders of chlorine gas have ruptured, it could have seriously affected people for a mile around the plant. We didn't want to risk that any longer and decided that generating our own sodium hypochlorite was a much safer alternative."
In addition to the change in chemical process, the expansion also resulted in a brand new operations building which houses not only the offices and administrative staff for the plant, but also includes a new laboratory facility and a common area that will be made available to city residents for meetings and other functions.
"This project really grew as we went along, as did the price tag which went from $3 million to $10 million." Said Fletcher. "But we knew that, as long as we were making changes, we might as well make all the improvements we've talked about wanting for a long time.  Right now this is one of the most functional — and beautiful — water treatment plants around."
Residuals Shortcomings             
Treatment of alum sludge at Seneca Water, the by-product of using aluminum sulfate as a coagulant, has a storied history. When the plant was originally built in 1968 there was no treatment effort at all; sludge was simply returned to the lake. The advent of clean water regulations changed all that and Seneca Water was soon recovering and disposing of its sludge in an area landfill. To dewater the material, Fletcher said the plant officials in about 1990 opted for use of a plate and frame filter press.
"Once installed, that press remained in place up to the recent upgrade and eventually became one of the main motivations behind a re-tooling of the sludge process," he said. "I'm sure that, in its day, it was a solid performer. In recent years, however, it had become such a headache to maintain that it was a full-time job just keeping it operational. In addition, it ran as a batch process which meant it had to stop after every batch of dewatered sludge it created. We knew there were better solutions available out there and we started looking at them."
It's worth noting that the overall configuration of the alum sludge plant was sorely lacking as well. At the time, sludge was collected in the backwash holding basin, sent to a vertical turbine transfer pump, then routed up to a thickener.
"Unfortunately, that thickener was on the top of a hill on the other side of the plant," said Fletcher. "Hardly the most efficient layout. Once thickened, sludge came back down the hill into a diaphragm pump and into the filter press. The transfer pumps were not only costly to run and almost always in need of rebuilding, they weren't really designed to pump sludge so they were continually stopping up. All those things collectively got us thinking about ways to improve the overall biosolids process — starting with the press."
Trials and Errors
After a fairly lengthy process of demos and trials, Seneca Water, working through their consulting engineer, chose a screw press from Schwing Bioset, Inc. Fletcher said the unit best met established criteria which were focused on cost versus performance.
"We looked at a number of manufacturers and a number of different technologies and knew that the Schwing Bioset unit would best meet our needs," he said. "Our old press was taking in sludge with 4% to 5% solids and dewatering it to about 24% solids, so we were hoping for at least that. However, many of the presses we tested were giving us product in the 16% to 17% range — we definitely didn't need a step backward. The team from Schwing Bioset brought their demo unit online and almost immediately we were getting dewatered sludge in the 28% to 32% range. Equally important, however, was the fact that the screw press was fully-automated rather than a batch-process design. That meant we no longer needed to have a man assigned to the press six hours a day, every day, as we'd done in the past."
With Seneca Water committed to the Schwing Bioset screw press, additional changes were made to the alum sludge processing line, including the addition of a Model 300 large bubble mixer from Pulsed Hydraulics, Inc. (Oroville, Wash.).
"In the past, we'd had problems with the sludge settling and stagnating in some of the lower parts of the holding basin," said Tommy Clayton, a Class A operator at the Seneca plant. "This PHi bubble mixer keeps the sludge moving and further increases production through the Schwing Bioset screw press. It has very low energy demands, has no other moving parts and runs off a compressor which we need for the press as well. The two are a perfect fit."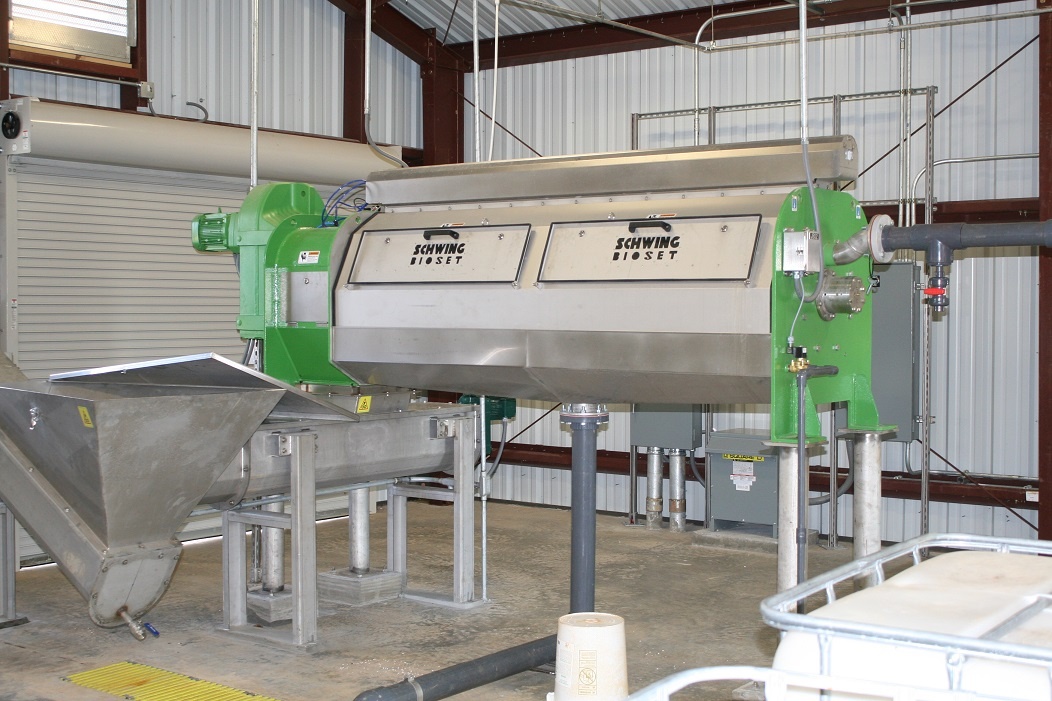 Pressing Issues
The increase in production with the screw press in place was immediate and substantial. Because of the batch nature of the former plate and frame press, Seneca Water was forced to process sludge continuously all year long. According to Fletcher, that has changed with the addition of the Schwing Bioset unit.
"Now, with the continuous dewatering process we can have material being collected in the basins and, when ready, can get caught up in just two to three weeks. There really is no comparison between the two presses, but it's safe to say that we can probably do close to two tons of alum sludge a day with the Bioset press while the old press took two days to do just a ton."
Those old production figures were affected by both the cleaning process and by maintenance-related downtime. The plate and frame press, said Fletcher, had to be washed down after every batch — a process that could take as long as three hours. By comparison, the Bioset screw press has a self-cleaning function in which the screen gets sprayed — while the unit is in operation — cleaning it off.
"That means continuous production and no lost time, which is huge" said Fletcher. "We are saving no less than six hours a day in manpower alone just by nature of not having to have a man on the filter press handling the batch process, cleaning it and so on. However, without a doubt, we are benefiting most by finally having a press that is reliable — we are no longer having to constantly work to keep that unit operational. We simply start up the Schwing Bioset unit and it runs all day long."
Working Together 
Once dewatered, Seneca's sludge is collected and sent to an area wastewater treatment plant where it is mixed with that facility's dewatered biosolids and trucked to a landfill in a collaborative city/county effort.
"There are so many facets of our operation that have been improved with this latest expansion," said Fletcher. "We are much more efficient now, our process is better and far more reliable, and the risk of danger from chemical exposure has been eliminated. That's a very nice turnaround for us and a benefit to the Seneca community as a whole. We couldn't be happier with the way things turned out."
{{cta('f7c6a470-4d17-4b43-bf9f-ee8763af0097′)}}
{{cta('62f45d87-56cc-4443-9f43-7a853094c599')}}