Written by Miguel Jahncke, May 2, 2016
The San Jose mine, one of the flagship operations of Fortuna Silver Mines, Inc., located in the state of Oaxaca in Mexico, was commissioned in July 2011 and began commercial production in September 2011 at a rate of 1,000 tpd. In September of 2013, the mill was expanded from 1,150 tpd to 1,800 tpd and in April 2014, the mill was further expanded to 2,000 tpd. Expansion of the mill from 2,000 tpd to 3,000 tpd was initiated in the first quarter of 2015 with commissioning planned for July 2016.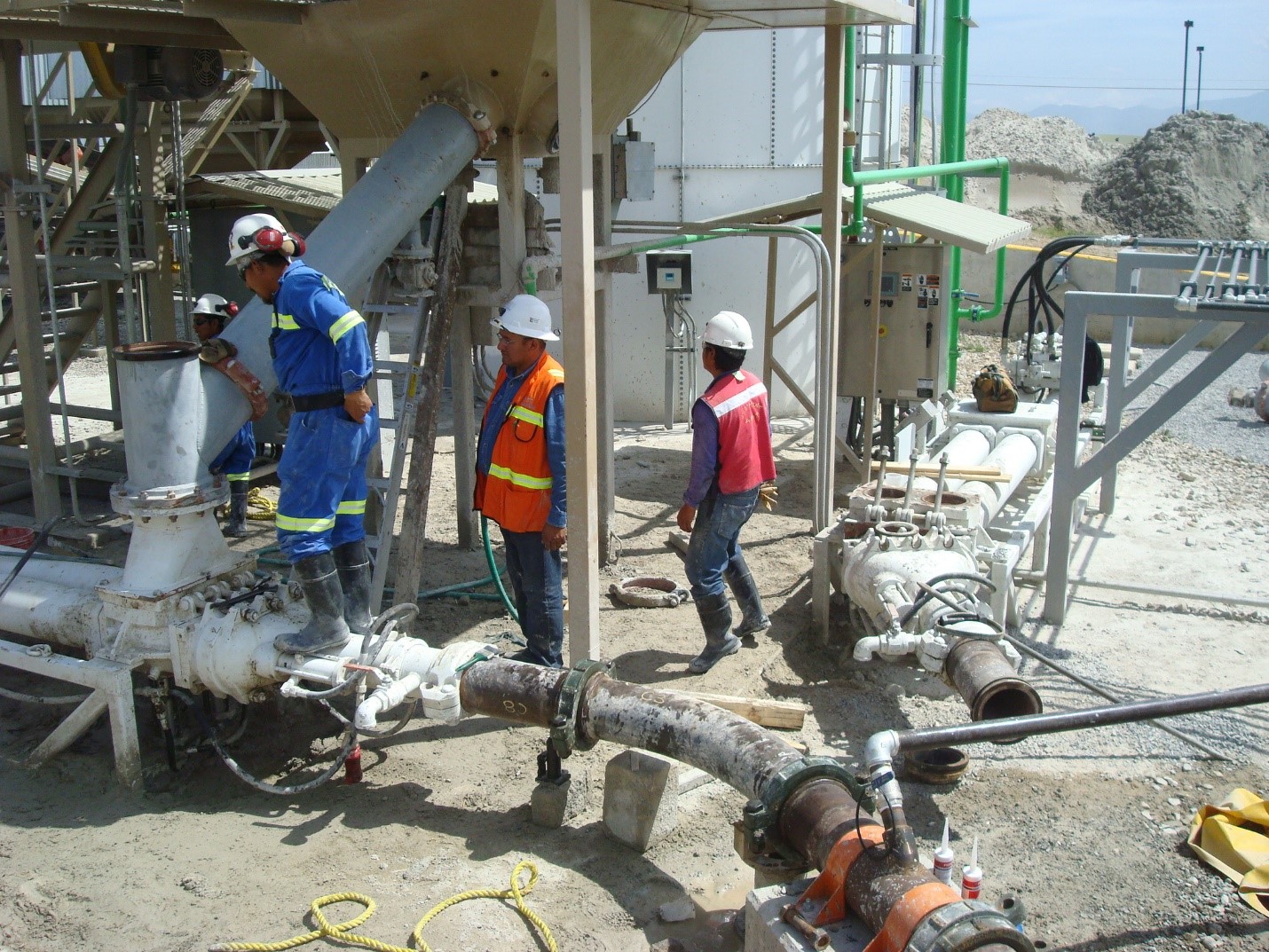 (Shown Above: Old Plant Installation)
During the initial installation, the operation received two Schwing Bioset KSP80 pumps, one for operation and one for stand-by. As the reserves increased and the mine production and processing plant expanded, San Jose evaluated different options for handling the additional mine backfill requirement, finally deciding upon the reconfiguration of the KSP80 pumps and their installation at the new and improved Paste Plant, in a parallel arrangement. This new arrangement allows San Jose to handle double their initial paste flow capacity with no additional investment in larger pumps.
(Shown Above: New Plant Installation)
In addition to the parallel arrangement, Schwing Bioset also upgraded the Control Panel with its patented multi-pump synchronization system. This system allows both pumps to continuously "talk" and make adjustments to their stroke timing while pumping, ensuring that, regardless of the pump speed, continuous flow through the pipeline is achieved, mitigating the potentially negative effects of water hammer.
The new system was recently commissioned and now operates as a single 4-cylinder pump with no need for additional pipeline pressure dampening to maintain smooth pumping operations, as would be expected from multiple independent pumps feeding a common pipeline. The configuration also allows for the units to be decoupled for maintenance or when plant tailings delivery is reduced, continuing operation with two cylinders to maintain the single pump flow capacity.
Further proving their versatility and toughness, the Schwing Bioset pumps were the only component that was saved from the old Paste Plant to be reutilized in the new Paste Plant. Upon completion of the 3,000 tpd expansion, the mine will produce 9-10 million ounces of silver and 52,000-53,000 ounces of gold per year, ranking the San Jose Mine among the world's top-13 primary silver producing mines.
To learn more about this project specifically or learn more about our mining backfill pumps, please contact us, call 715.247.3433, and/or visit our website here: SBI Mining Pumps.
{{cta('f7c6a470-4d17-4b43-bf9f-ee8763af0097')}}