The Manor Water Reclamation Facility owned by Forsythe County located in Milton, GA, consisted of four trains utilizing Zeeweed 500D membrane bioreactors sized for a total of 500,000 gpd of flow. As the system aged, the County decided to replace the old membranes. Half of the existing membranes were replaced with Schwing Bioset's Econity CF54D membrane bioreactors (MBRs) to process 250,000 gpd of flow. Due to the modular nature of Schwing Bioset's Econity membranes, an easy, direct "in-kind" replacement of the old membranes was possible.
In the operator's words regarding the retrofit, "the replacement was a breeze," simply making pipe flange and hose connections. During replacement activities it was found that the existing membranes were fouled with debris, which revealed another advantage of the Schwing Bioset Econity membrane design.
Schwing Bioset's Econity membranes are manufactured with an "end free" fiber (potted on bottom only) that eliminates fouling issues associated with membrane designs using top and bottom potting of the membrane fibers.
The Schwing Bioset Econity design is such that the fibers are contained in modular "cartridges" that are assembled into "cassettes" of more than one cartridge within a frame support. Unlike the existing MBR frames, the Schwing Bioset Econity frame is designed as a self-supporting structure.
This modular design greatly simplifies installation and removal when necessary as the cassettes can be removed by a single operator in a couple hours, unlike the original equipment which required multiple staff members and a full day.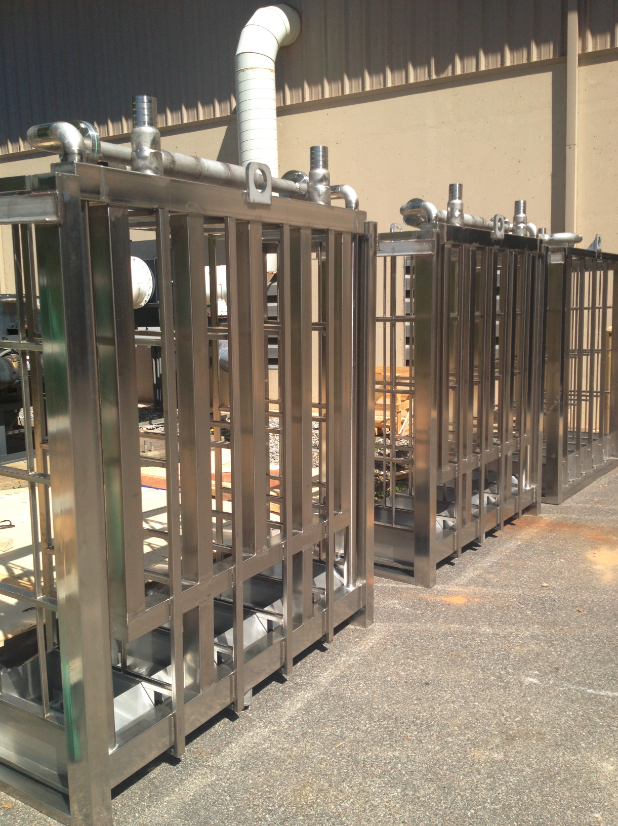 Based on the foregoing comparison, the following conclusions can be drawn about the Schwing Bioset Econity Membranes:
1. The modular design allows customization to fit virtually any basin shape or size.
2. The end free design solves the recurring problems of solids build up at the ends of the membrane fiber. The  membranes are not prone to fiber breakage and deterioration of effluent quality.
3. The construction is easier to maintain.
4. The end-free membrane design allows for more vigorous movement of the fibers requiring up to 40% lower air scour compared to the competitor.
5. The new MBR's have helped the community update its tertiary treatment system that treats sewage to re-use quality.
The advantages of Schwing Bioset Econity membranes are easily recognized by customers. It is for this reason that there well over 2000 installations world-wide.
Check out these photos of the old clogged membranes that were replaced!
To learn more about Schwing Bioset's MBR systems, visit our website here or contact our Regional Manager closest to you.
{{cta('f7c6a470-4d17-4b43-bf9f-ee8763af0097′)}}
{{cta('62f45d87-56cc-4443-9f43-7a853094c599')}}